The patent landscape is a step-by-step process that provides to study various patent research areas. It provides valuable insights into the innovations or patent data containing business, scientific, and technological trends. Thus it is focused on a particular technology at the national or international level. The patent landscape report contains technical analytics used by startups, large businesses, research institutions, and firms for future product development and investment in technologies. It is also known as patent mapping.
It also aids in understanding policy decisions, strategic planning, research & development, and technology transfer. They are also helpful in examining the validity of patents based on their legal status. World Intellectual Property Organization provides a specific format for framing of a Patent Landscape. However, 3D maps, charts, and other graphical forms are also used in a report. Nowadays, artificial intelligence has also been progressively employed in the process.
Also Read: Patent Strength Analysis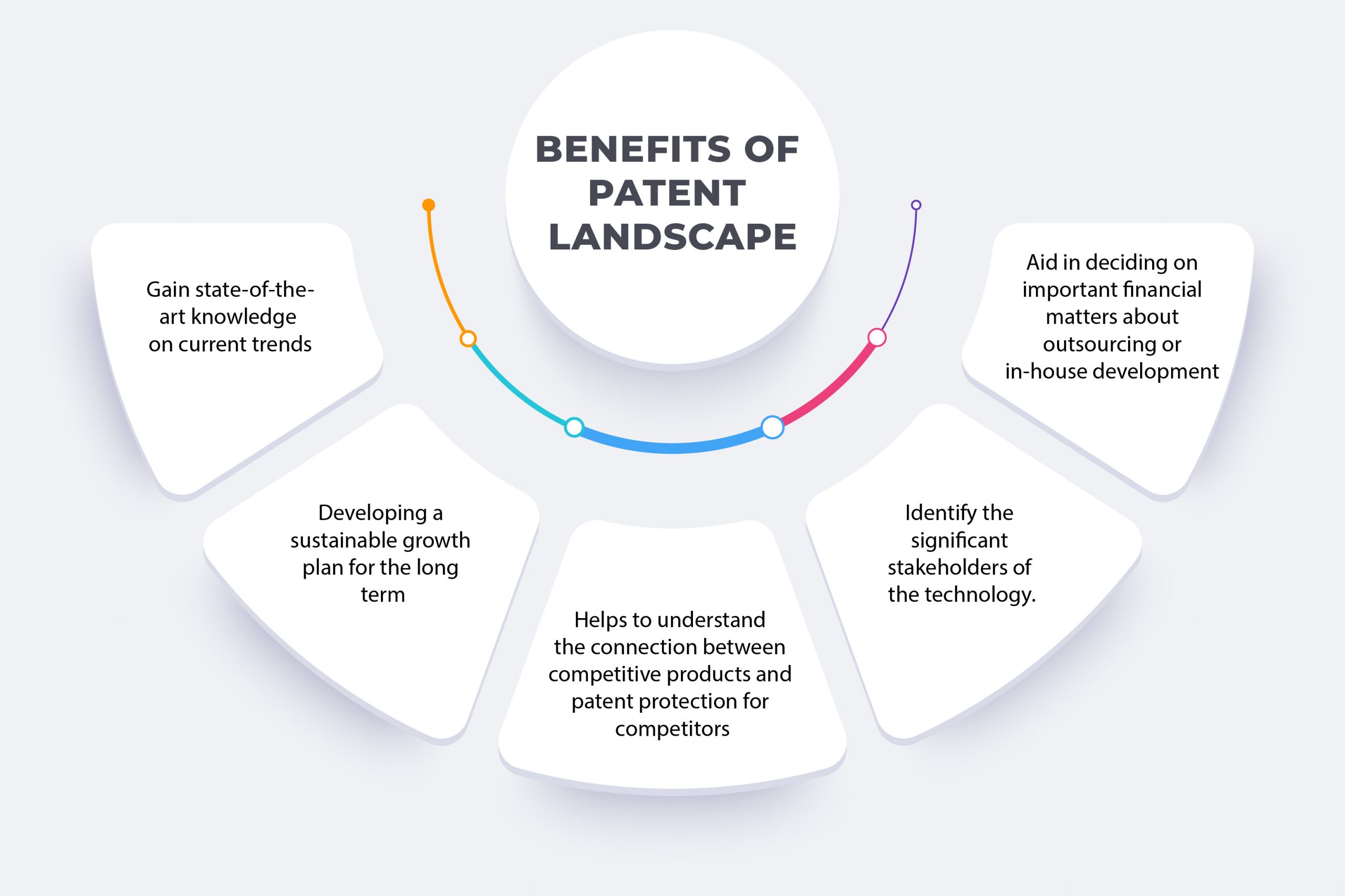 Is Patent Landscape beneficial?
Yes, the patent landscape is an excellent way to enable experts from different company fields to understand and decide on key business issues. Thus, the analysis helps the company to better inter-departmental coordination. The benefits of Patent Landscape are:
Patent Landscape helps to gain state-of-the-art knowledge on current trends. Complete knowledge of important details about technology and innovation helps to make beneficial decisions.
Thought leaders and development teams identify the significant stakeholders of the technology. Such data has immense potential to identify prospective acquisition partners, licensing opportunities, competitors, suppliers, target customer groups.
It helps to take important financial decisions such as whether the technology should be outsourced or developed in-house.
The patent landscape is an effective and preferred tool used by legal teams to get aware of the connection between competitive products and patent protection for competitors.
Business analysts and product investors use it to recognize opportunities and risks associated with competitive R&D. It also aids in developing a sustainable growth plan for the long term.
Also, it helps to understand which companies are investing money via patent filings and in which categories. Thus, it becomes easier to compare the spending of various players on research and development in diverse categories such as technology, product, and application.
Human resources and team member recruiters use the patent landscape to recruit the best innovators.
At present, the rate of patent filings stands at an unprecedented high. Most of the information present in patents is not present anywhere else as it is not published. Thus, patents act as a window to look deep into the potential ideas, innovations, technical product development, corporations, firms, and research institutions worldwide.
Also read: Patent Landscape Analysis
Why is Patent Landscape a critical need?
Patent Landscape is no more an option but a critical requirement for optimizing a company's potential and investment. The information derived from patent landscape helps to:
Decrease redundant search
Identify M&A targets
Produce novel in-house technology
Recognize licensing targets
Enhance company's R&D capacity
Enhance time to commercialization
Protect teams from defensive litigation.
Set the right direction for upcoming R&D efforts
Develop a comprehensive and strategies IP roadmap
Reduce the spending on unnecessary and copied technology
Avoid legal risks and safeguard the company from defensive litigations.
Better planning before venturing into a new technological domain.
Why Choose us?
We have more than ten years of experience in patent landscaping in more than 30 types of technical fields. Our expertise pool comes from all over the world as we provide services in 100+ countries. We provide Patent Landscaping services in 16+ languages. Our IP professionals have extensive knowledge and skillset in the principles of intellectual asset management in various fields like research, marketing, legal field, and business development. We offer various service categories such as Quick, Adequate, Adequate Pro, and Custom. The service variety enables you to decide the particular package to fit your needs and budget. 
It is important to make the right choice to avail of patent landscape services. This is because the output expected from a Patent landscape differs for each individual as well as company. Want to know more about our services? Visit our website
More Related Articles
3 Important Elements of a Good Patent Drawing
A Guide to Patent Drawings, Draft Descriptions, and Abstracts (thepatentdrawingscompany.com
How to Overcome Patent Drawing Rejection Based on Hatch Patterns