Patent Landscape Analysis Services by The Patent Search Firm. Get comprehensive patent analytics  & IP insights to stay ahead of your competitors in a technical discipline. 
Patent landscape reports provide a snapshot of the patent situation of a specific technology, either within a given country or region, or globally. They can inform policy discussions, strategic research planning or technology transfer. They may also be used to analyze the validity of patents based on data about their legal status.
Salient features
Over 15+ years in business plus 500+ full-time Searchers.
We own 30+ tech areas including 45+ patent landscapes per month.
The Multi-lingual services (16+ languages) cover over 100 countries.
Wide charts/graphs coverage (scientific literature, journal articles, conference papers, TKDL library and many more).
Multiple variants (see below) to match your budget and completeness requirements.
 The subject-matter experts conduct the Searches and manual analysis; reports include expert comments on each search result.
A patent landscape begins with a state-of-the-art search for the relevant technology in selected patent databases. Then you analyze the search results to answer specific questions about, for example, patterns of patenting activity or of innovation. Moreover, you present the results visually to assist understanding. Finally you provide the conclusions or recommendations based on the empirical evidence.
Patent Landscape Analysis Services by The Patent Search Firm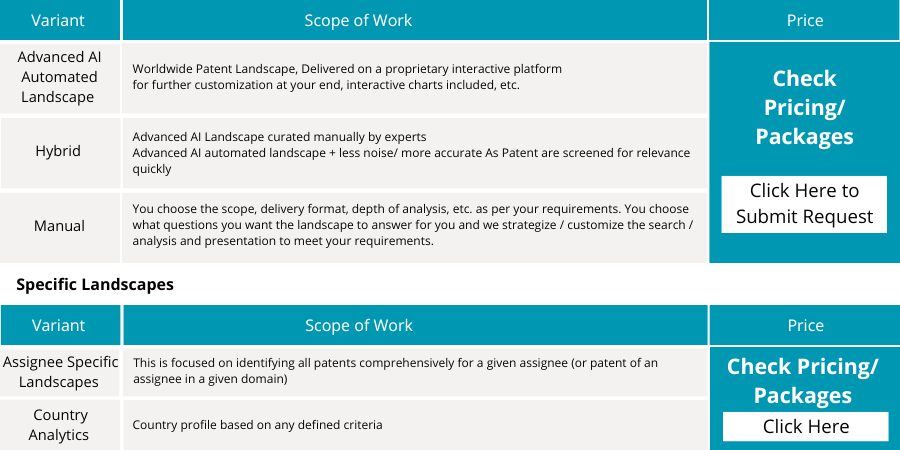 Check our Sample Reports – Request Here
For more information, visit FAQs
Quick Contact / Check Patent Landscape Analysis Sample Reports:
---
Download Sample Reports