Freedom to Operate FTO Search Services by The Patent Search Firm. Achieve highest level of comprehensiveness to cover every possible IP road block.
TPSF has 10+ years of business along with 350+ full-time Searchers. Also, we own 30+ tech areas that perform 100+ FTO searches/month.
Multi-lingual (16+ languages) services covering 100+ countries.
Comprehensive Searches Covering Even Broadest Possible Claims
Subject Matter Experts perform Searches and Analysis
Accurate Legal Status Analysis
Analysis based on Latest Claim Sets
Detailed Reporting with Expert Comments on Each Result
Without cost Customization and Iterations for your Complete Satisfaction
Performs Exclusive FTOs in even Obscure jurisdictions
FTO Search service helps identify potential patent barriers to commercializing your products or technologies. Also, this due diligence process examines the claims language of third-party. Also, it helps to in-force patents as a means of assessing your risk of potential infringement.
The purpose of an FTO search is to identify in-force patents or published patent applications. Also, these patents contain claims that cover the technology, process, or product you are targeting.
Freedom to Operate FTO Search Services by The Patent Search Firm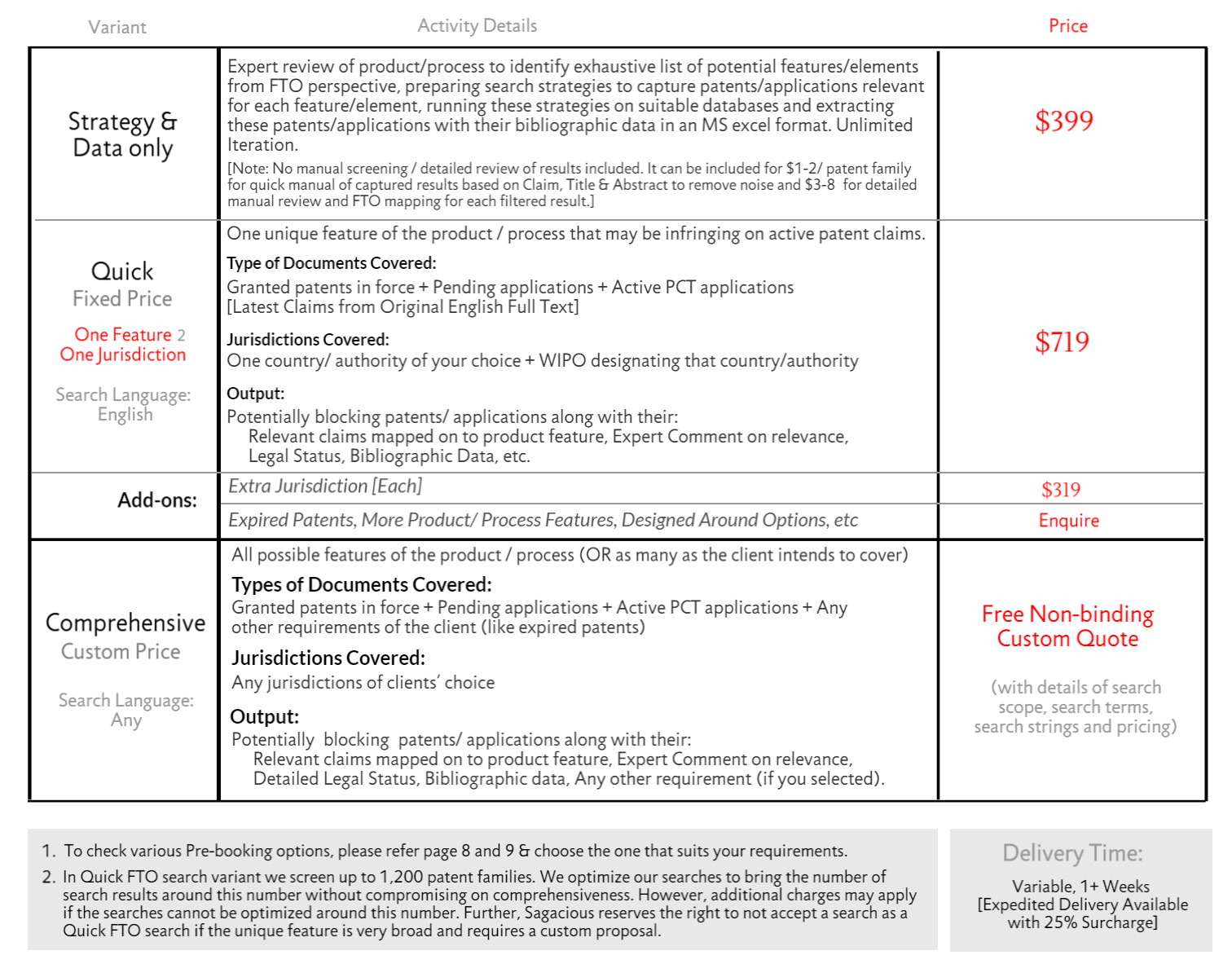 Check our Sample Reports – Request Here
For more information, visit FAQs
Contact / Check FTO Search Sample Reports:
Some General Queries regarding FTO Search:
What is an FTO search?
This helps to commercialize the product. It searches for other patents or technologies that might prevent an inventor to sell, and make profits. Also, it helps in business expansion. Moreover, a firm must conduct an FTO search if it intends to do business in a foreign country.
What is an Infringement Search?
It is also known as FTO search. It searches for existing patents, pending patents, and compare if there is a threat of infringing another patent.
Cost of FTO Search?
The cost of freedom to operate search ranges from $300 to $10000 or more. However, it depends on several factors like how broad the search is the technology domain, and the fees of legal professionals.
What is Patent Infringement?
The patent owner has the only rights of selling, producing a product. Also, patent infringement means selling and making a profit from any other patent without permission. The claims of the patent must not match to avoid patent infringement. Also, the product is accused of infringing only if all the elements in the claim are similar to other patents. This is also called literal infringement.