Chemical Structure Search Services by The Patent Search Firm. Discover exact or similar chemical entities for your chemical compound using through databases indexing scan.
TPSF boasts 10+ years of business experience with more than 350 full-time Searchers
Also, we work within 30+ tech areas providing 100+ chemical structure searches/month.
Comprehensive Searches for Patentability, Invalidity and/or FTO
Query Structure Prepared and Finalized by Experts
Custom Selection of Data Source for Each Search
Optimization of Database Costs
In-depth Expertise of Markush Claims Analysis
We also provide free Iterations till you are fully Satisfied
Chemical Structure Search Service by The Patent Search Firm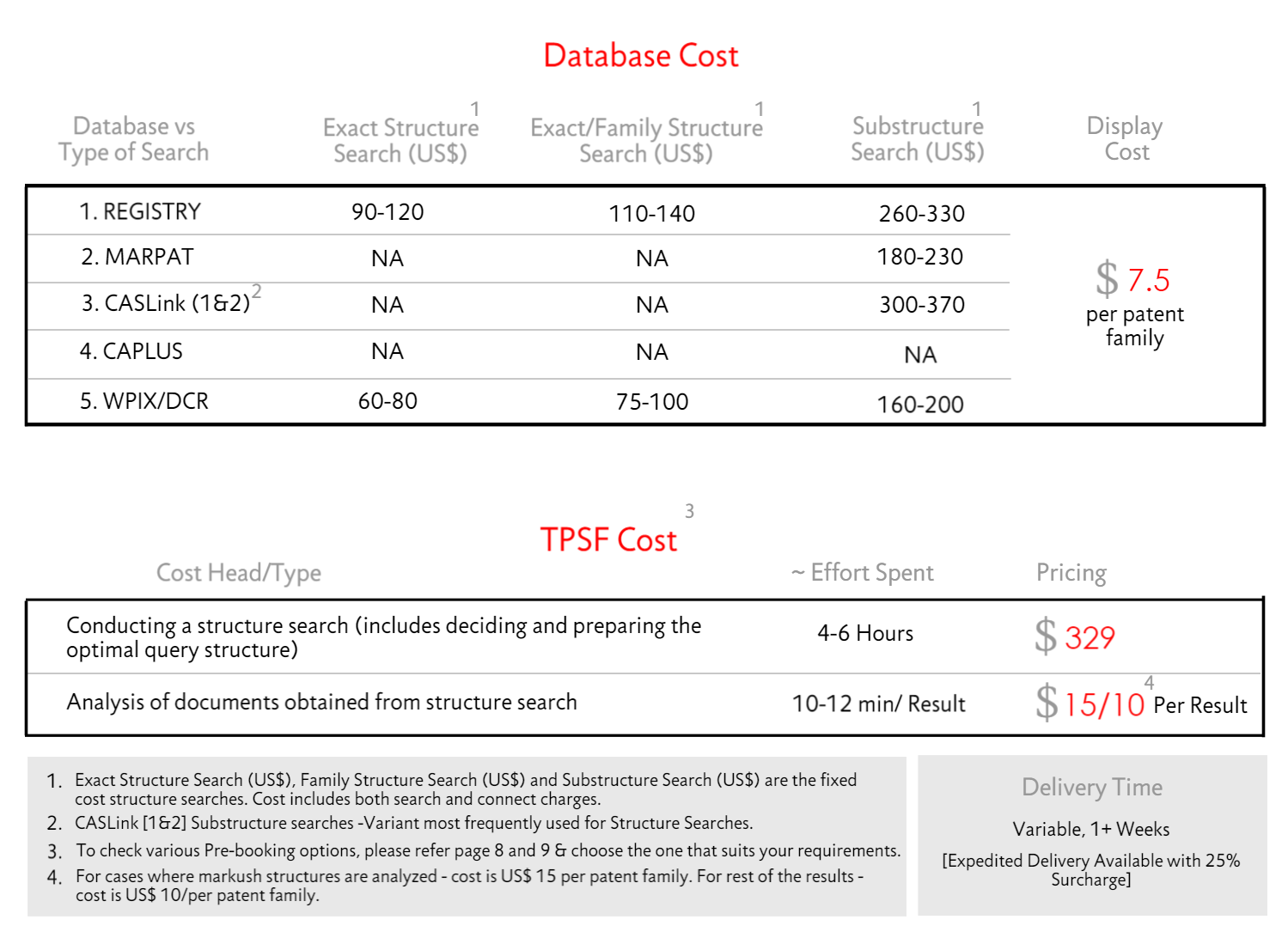 Check our Sample Reports – Request Here
For more information, visit FAQs
Contact / Check Chemical Structure Search Sample Reports:
Some General Queries related to Chemical Structure Search:
How to do Chemical Structure Search?
You may perform the search on your own. However, we advise you to hire a firm to do the chemical search. To do the Search by yourself, you may use the tool provided by WIPO. In this tool, there are three options to do Search:
Upload a structure
You may upload a chemical description file. However, your file should be in the format approved by WIPO. You can upload MOL or SMILES files. Moreover, WIPO has allowed uploading bitmap representations of the chemical compound. Bitmap representations can be png, gif, tiff, or jpeg.
Convert a structure
In this option, you may select the input type of the search. The input type is the name of the chemical compound. You can use the following alternatives as the name of the chemical compound:
Commercial name
CAS name
trivial name
The international NonProprietary Name
InCHI
InchIkey
SMILES
Structure editor
Moreover, you are free to draw or edit a chemical structure. You can draw chemical structures, reactions and sub-structures. The chemical search tool has chemical symbols for drawing structures.
How to access Chemical Structure Search of WIPO?
WIPO is easy to access. First of all, you have to create a PATENTSCOPE account. There is no charge for the creation of the account. Second, you have to login WIPO using your PATENTSCOPE account. Once you have been logged in your account, you may proceed with the Search.