Patent Invalidity Search by The Patent Search Firm. Find the most obscure prior-art even from hidden sources by covering 16+ languages/100+ countries. 
TPSF boasts 15+ years of experience in business with more than 500+ full-time Searchers. Also we own more than 30 tech areas and 100+ invalidity searches per month.
Capability to work on many languages (16+ languages) that covers 100+ countries.
Good Understanding of Inventiveness and novelty concept
Over 75% Searches with Successful outcome
Quick Turnaround
Searches and Analysis by Subject Matter Experts
We provide you Reporting in detail along with the Expert Comments for every Result.
Full Text Copies of identified References
We also provide free Iterations till your complete Satisfaction
Widest Coverage for Non-Patent Literature
The ONLY Patent Invalidity Search you'll EVER need.
Pay for RESULTS not HOURS.
We own a decade of working and interacting with patent attorneys. They include attorneys at law and in-house IP counsels of over 1,500 companies from 86 countries. Also, we conducted over 10,000 searches in diverse technical areas. It makes us the best team to take up your case. Moreover, we've achieved a success rate of 44% in our invalidity searches – you can be assured that your critical case is in the right hands.
We've got YOU COVERED, whether it is a critical litigation or a pro-active opposition,
Our SKIN is IN the GAME. We only SUCCEED when YOU do.
We conduct comprehensive searches for patent literature, non-patent literature and industrial designs. Also, we conduct collaborative search and there is no upper cap to the effort – our entire intention is to get you the killer art for your case.
The patent searches cover 100+ countries (including 30+ countries in full-text) and are conducted using English, German and French language search strategies (to also capture European documents appropriately). We also cover Chinese, Japanese and Korean patent documents through machine translation in this search.
Search of Non-patent literature using English Language. Moreover, this search comprises of Books, Journals, Academic Projects/ Thesis, Conference Proceedings, Defensive Publications, Product Literature, etc.
It includes Industrial designs / applications of 25+ countries.
Patent Invalidity Search Services by The Patent Search Firm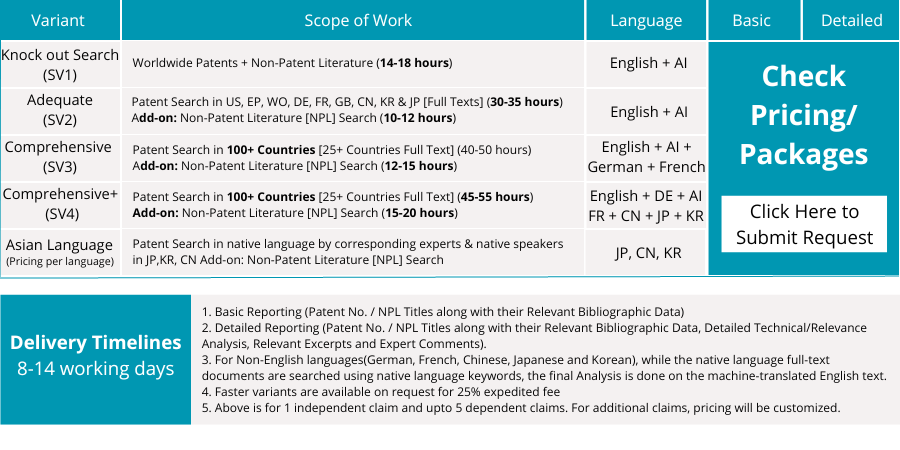 Check our Sample Reports – Request Here
For more information, visit FAQs
Quick Contact / Check Invalidity Search Sample Reports:
---
Download Sample Reports