Patent Landscape Reports have detailed analysis of patents in a given technical field that achieves one or more business objectives. In other words, a patent landscape search report is similar to state-of-the-art patent search that delivers results in a visual landscape or map.
Benefits of Patent Landscape Reports
Most technical domains have high competition. Patent landscape helps to shape a business plan and align it with its IP strategy. Patent landscape helps businesses to understand the market trends; where their competitors are heading, their strategies, and their future products. Patent landscape analysis help firms understand the trends and opportunities.
Patent landscapes provide an insight into the patent portfolio activities of your competitors and, in turn, helps a business in making informed decisions regarding business strategy, R&D investments, mergers, acquisitions and product development. Further, white space analysis may be performed as an extension of the patent landscape to identify areas with low competition, and could help devise potential future strategies to invest in these areas.
Patent Landscape Reports and their Use
The output report of a patent landscape is a in-depth report of the outcomes. It give insights about market trends in the form of charts, maps, etc. Therefore, This helps companies to create a better strategy in their domain..
These reports give accurate information about patent portfolios of other firms in same domain. An efficient patent landscape report is crisp and detailed at the same time. A clear interpretation is essential illustrate to understand trends and opportunities. Hence, Language and format of report must be easy to grasp manner by key stakeholders, such as senior management and delivery teams.
Doing a patent landscape analysis is essential. It saves time and money by preventing any potential patent litigation. This becomes even more important in the hi-tech domain where number of patent filings have increased and so are the chances of patent infringement.
Pricing Variants for Patent Landscape Reports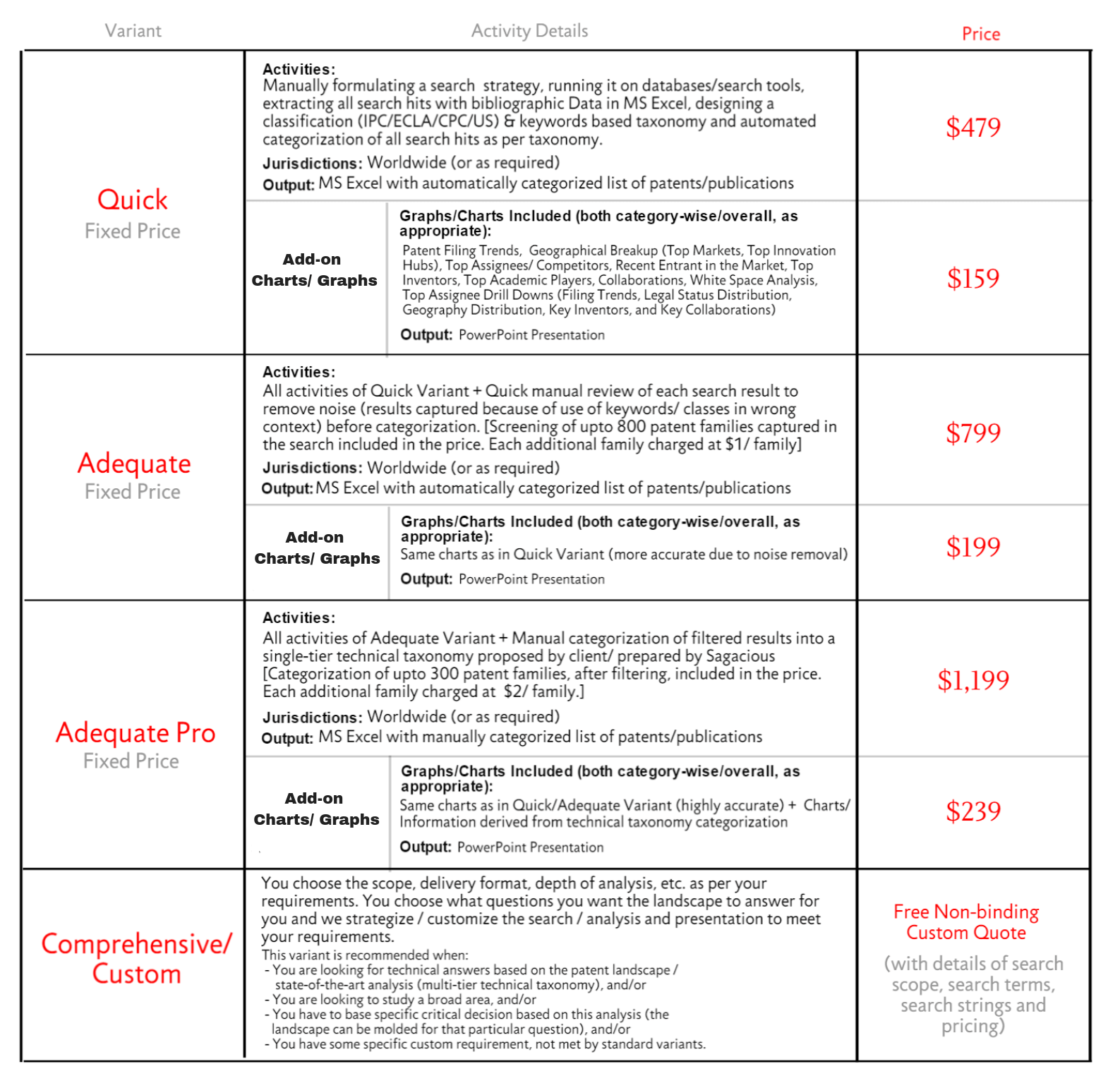 Looking to hire a professional to conduct patent landscape search?
The Patent Search Firm has more than 10 years of experience in the IP field. Our team covers possibly every technical domain. Over 1200+ happy clients in 45+ countries. We go through every database in order to deliver precise results . Also, The clients can check the status of the work at any stage of the process. Moreover, 100 % customer satisfaction is our top priority. To know more, Visit our service page