Patent Watch is the process of keeping an eye on the patents at regular intervals of time. It needs exploring different official journals, databases, online sites, etc. for published or pending patent applications. Firms conduct it for different reasons. They check competitors in the market, double check any potential infringement of their service/products etc. more importantly, aim is to bring responsiveness about the market strategy, new developments in IP, competitor's potential resources, and self-analysis of your services/products. It is an active service for business owners, financiers, investors within and across all sectors. Understanding the different patent watch types will increase your knowledge about the IP domain.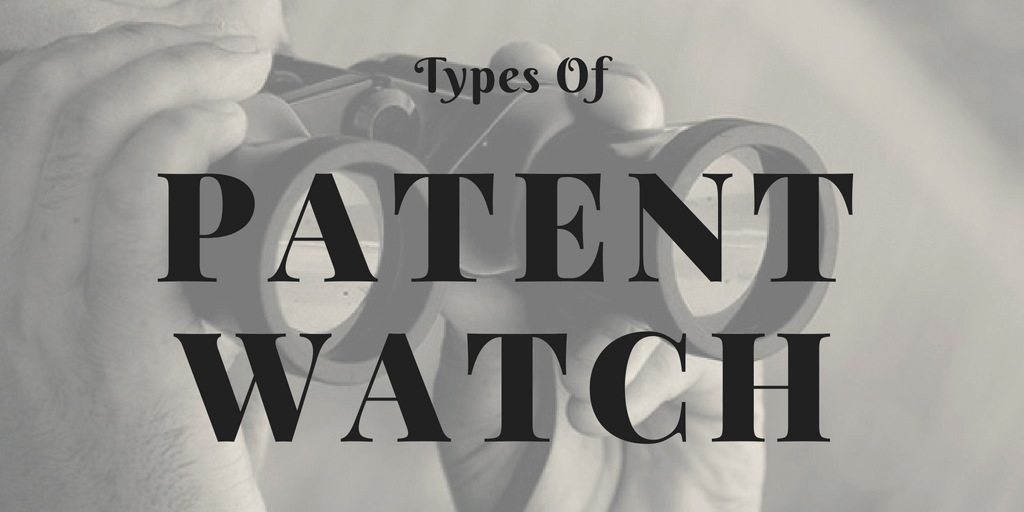 Constant monitoring regulates monopoly within the market. Maintaining watch practices at a regular stretch also minimizes risk effectively and allows optimization of your resources. Recognizing these probable infringement problems (manufacture, sale, or importation faculties within the different jurisdiction), will consecutively diminish the cost of handling more complex industrial property issues. It's a good practice to research about domains in which competitors are showing their interest. It will enable the development of future goals in that domain as well, opening new areas to explore.
Related Article: Patent Infringement Types and How to Avoid Them?
Why Watch?
The following are some of the reasons why patent inventor, business, or any industry wants to opt a patent watch service.
Determine novelty or perform prior art searching
To assess product clearance, right-to-use or perform a freedom-to-operate search
perform Validity or invalidity search
To perform Collection or state-of-the-art searching
Discover competitive or technical intelligence
To perform subject matter specific watch
Perform search specific to proprietor/applicant name
Monitor every phase of the patent process
Related Article: What are the Different Patent Watch Techniques?
Patent Watch Types
Almost every person holding the responsibility of bearing a patent securely by ensuring its value and protection of its total assets can opt for a patent watch service. Therefore, it is essential to learn about the various patent watch types. It can be an inventor, patent owner, business, or any industry. The spread of patent watch service will vary according to the inventor's requirements and need inside the patent application. Here are the following Patent Watch types:
Technical Patent Watch
Under the Technical Patent Watch, the watch covers only core technical domain. It includes published and issued patent applications in a functional area as soon as they get published in any professional journal, a research blog, etc. The competitor technical watch monitors the technology and patents (issues and under-process patent applications) inclinations of desired competitors. One can also focus on a specific company, person, or an organization depending on the client's requirement.
After identifying trends and latest updates researching through all the registered journals, papers, etc. of different domain, we provide alert services to enable our clients with monitoring and tracking the recently issued and published patent applications, new inventions in the field of interest on a specified period, such as fortnightly, monthly, semi-quarterly, quarterly basis.
Competitor Patent Watch
Under the Competitor Patent Watch, watch services aids to get updates regarding newly published and issued, abandoned, expired, or rejected patent applications of competitor companies and inventors in specific jurisdictions across the globe to mitigate the legal risks. The Patent Search Firm even provides assistance in monitoring and sending alerts about the recently published patent applications in connection with the competitors or inventors of the competitors. Further, the watch gets an enhancement for the identification of the status and progress of published patent applications of competitors.
Patent Legal Status Watch
Under the Patent Legal Status Watch, watch services are provided to monitor the current status of prosecution and post-grant events (Request for Continued Examination (RCE), a Post-Grant Review (PGR), or maintenance status) for newly published and or issued patent applications. This watch only monitors the legal status of our client patent applications during the prosecution stage and update our client instantly regarding any amendments such as office actions, fee payment, etc. It includes monitoring for any abandoned, rejected, or expired competitor's patents without any infringement risk. We monitor applications of their clients to provide alerts through emails regarding the changes in application status with a copy of office action or letter. We also send customized reports focusing on the legal status change on a specified period, such as fortnightly, monthly, semi-quarterly, quarterly basis.
Design Watch
This watch services are provided to monitor only the design patents and registrations of newly published and/or issued, abandoned, expired, or rejected patent applications of competitor companies and inventors in specific jurisdictions across the globe.
Trademark Watch
Under the Trademark Watch, watch services are provided to monitor only the newly published trademarks in federal and state trademark databases as well as the common law trademarks. We even offer an International trademark search that includes 90+ countries.
Infringement Watch
Infringement Watch monitor only new Evidence of Use (EoU) in the form of products, processes, or services that seems to holds infringement claims on unexpired patents.
Hence, before planning to start a patent watch, you must learn about the patent watch types, to select the most appropriate one.
Related Article: Significance of Patent Watching
Hire us to conduct a professional Patent Watch
The Patent Search Firm has more than 10 years of experience in the IP field. Our team covers possibly every technical domain. Over 1200+ happy clients in 45+ countries. We go through every database in order to deliver precise results . Also, The clients can check the status of the work at any stage of the process. Moreover, 100 % customer satisfaction is our top priority. To know more, Visit our service page
Other Related Articles:
Patent Proofreading Benefits: The Best Five
5 Major Benefits of Patent Paralegal Service
Contact Us: