A comprehensive analysis on the research area of patents and its scientific literature is termed as patent landscape analytics. It depicts the white space in the research area, latest IP trends, technology rise and decay, potential areas of improvements, etc. It involves a multi-step process of using both software knowledge and human intelligence to study, analyze, organize, and get the desired result. This information in turn helps large firms, research institutions, startups, investors, and universities to learn, understand and make conversant decisions. it essential before investing time, efforts, and money into new domain.
An experienced person with knowledge about the principles of IP management will provide the client with sensibly relevant research information. Involving the members from marketing, R&D, legal, business development teams, enhances the quality and efficiency of the patent landscape analytics.
Steps of Patent Landscape Analytics
Perform the following steps in order while performing patent landscape analysis:
Step 1- Judgement
Before getting into details for accumulating information about the technology, one must understand the purpose of the analysis, to clearly get to know about the reason (competitive intelligence, idea generation, 'white space' analysis, and patent filing strategy/ patentability) and the expected scope (risk management, M&A and monetization) for the analysis.
Step 2- Identification
After knowing the purpose of the analysis, Identify the patent search, analytic software, or the third party services, that are needed for the project
Step 3- Agreement
Consequently, the landscape analysis team discusses on what and what not to consider as technological area (product terms and multiple technology alternatives) of focus.
Step 4- Decision
In this step, the patent analysis team decides how deep search is required, which countries to involve in the search, inclusion of abandoned patents, equivalent patents, or family members are necessary or not.
Step 5- Search
In this step, a preliminary search is conducted by a team of skilled and experienced technical experts to identify a set of patent class codes, relevant keywords, and organizations working in the technical area. See the different types of search one should conduct.
Step 6- Generation
In this step, an initial training set of documents are generated, to know about the advanced technology, product and/or application areas that classifies the information about the patent.
Step 7- Usage
In this step, patent class codes, keywords, citation mapping and/or semantic search strategies are used to get a list of patents that matches with the technology, product, or application sub area.
Step 8- Review
Team review the patents (through automation using keywords, or manually through abstracts, titles or claims) for each application sub category. Both the methodologies such as, manual or automated have its own pros and cons. The automated one is much faster, yet less accurate. Whereas, the manual one is a bit slow, much more accurate and provides extra benefits of adding comments, meta-data, or value rankings to each result.
Advantages of Patent Landscape
Patent landscape Analytics provides a brilliant stage to build inter-departmental relationship. This builds a unified environment by encouraging people from different work fields to express their views on business issues. It provides benefits to the following people:
Scientists and researchers: It keeps the scientists and the researcher updated about the current technology and helps them to acquire details about the design, functionalities, possible improvements that can be made on that technology.
Business development team: It helps in judging the main owners of any specific technology to know about the potential merger/acquisition partners, suppliers, in/out licensing opportunities, competitors, or customers. Business development teams gets all these information to decide whether to start with in-house development or not. It tracks the global activities of competitors and highlights their strategies & strengths.
Marketing team: It helps the marketing, commercial strategy, and competitive intelligence teams to acquire knowledge about the competing technologies and companies that are well-known for their name or advancement in terms of technology. It helps in planning their company's working standards to take achieve that position in the market. Also, having an idea about the market trends help in measuring the performance of technology in comparison to others.
Legal team: It helps the legal team to know about the following facts:

To understand the relationship between competitive products and patent protected competitors
Analyze areas that can face ban for possible product or process innovations due to presence of a number of patent references or use of extensive patent claim language
To save money, time, and efforts by performing this analysis in an early stage
Analyze new R&D opportunities by searching for lags in technology
To maintain expired patents and analyze the patents which are about to expire.

High-level strategists: Investors gain insight into the opportunities and risks that exist in competitive R&D and product development initiatives. New "areas" for acquisition or investment, and how to develop and maintain a sustainable growth strategy.
Human resource team: Can identify and hire the leading innovators (inventors) in a technology.
Data Organization
Professionals analyse the data once the information is collected into relevant categories, in a way some of the examples listed below:
Patent filing velocity charts: Charts helps the team to picturize changes in technology, application, or product. This helps in deciding the expected time when the technology might prosper.
Use of top assignee tables: It helps in analyzing the most focused and the most targeted firms that might create a tough competition in the market. Also, It identify potential partners, licensees, acquisition candidates, customers, or organizations.
hybrid approach: Hybrid approach consists of using both patent filing velocity charts and top assignee tables at the same time. It provides the maximum benefit as to analyze the market trends and the potential partners as well as competitors.
Use of scrutiny for claims: This helps in legal analysis concerned with the validity and patentability of licensing.
Use in R&D: It help teams to perform the research for lags, advancement in technology, and market opportunities.
Hire us for an efficient Patent Landscape analysis
The Patent Search Firm has more than 10 years of experience in the IP field. Our team covers possibly every technical domain. Over 1200+ happy clients in 45+ countries. We go through every database in order to deliver precise results . Also, The clients can check the status of the work at any stage of the process. Moreover, 100 % customer satisfaction is our top priority. To know more, Visit our service page
Pricing Variants- Patent Landscape Analysis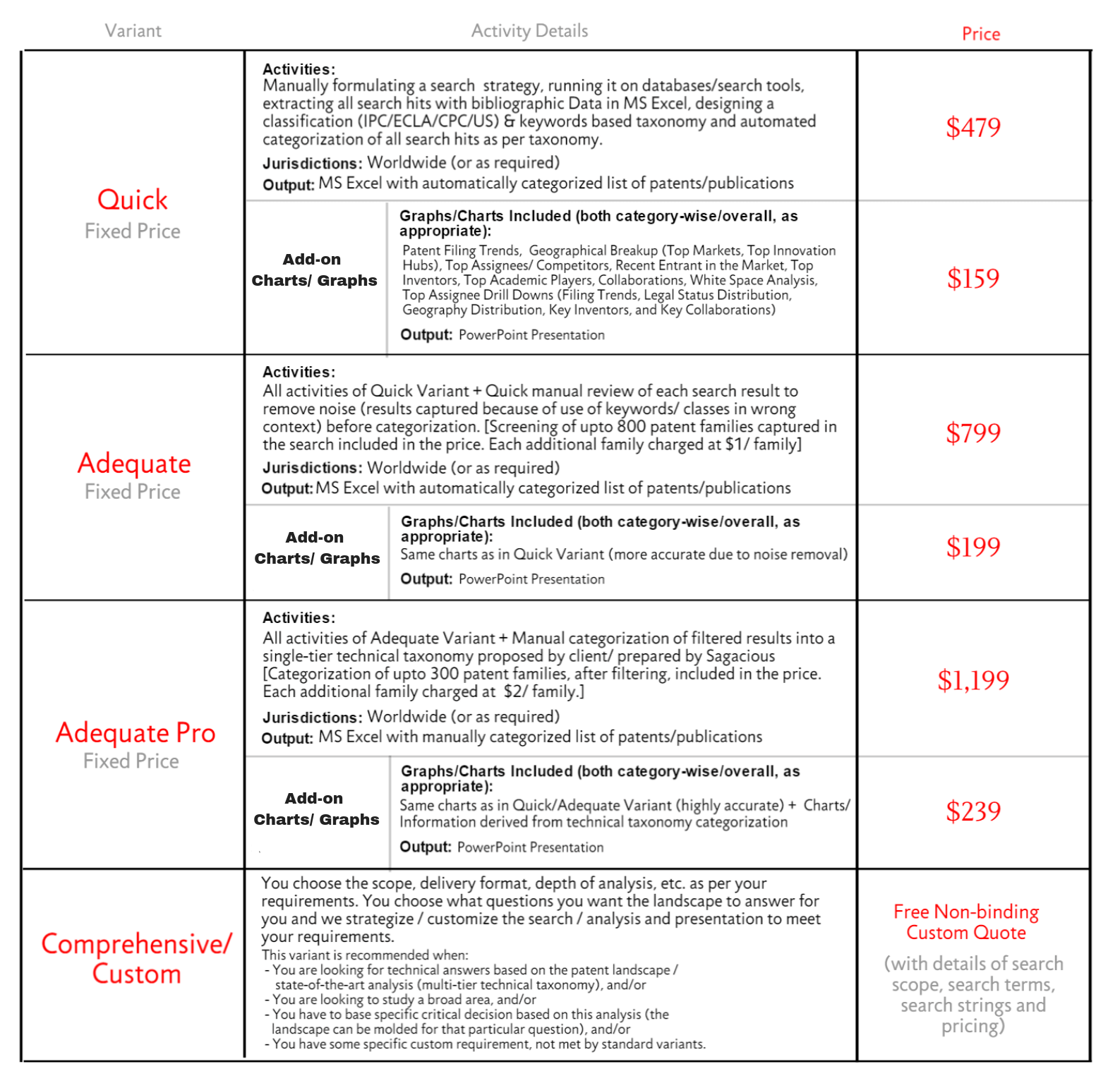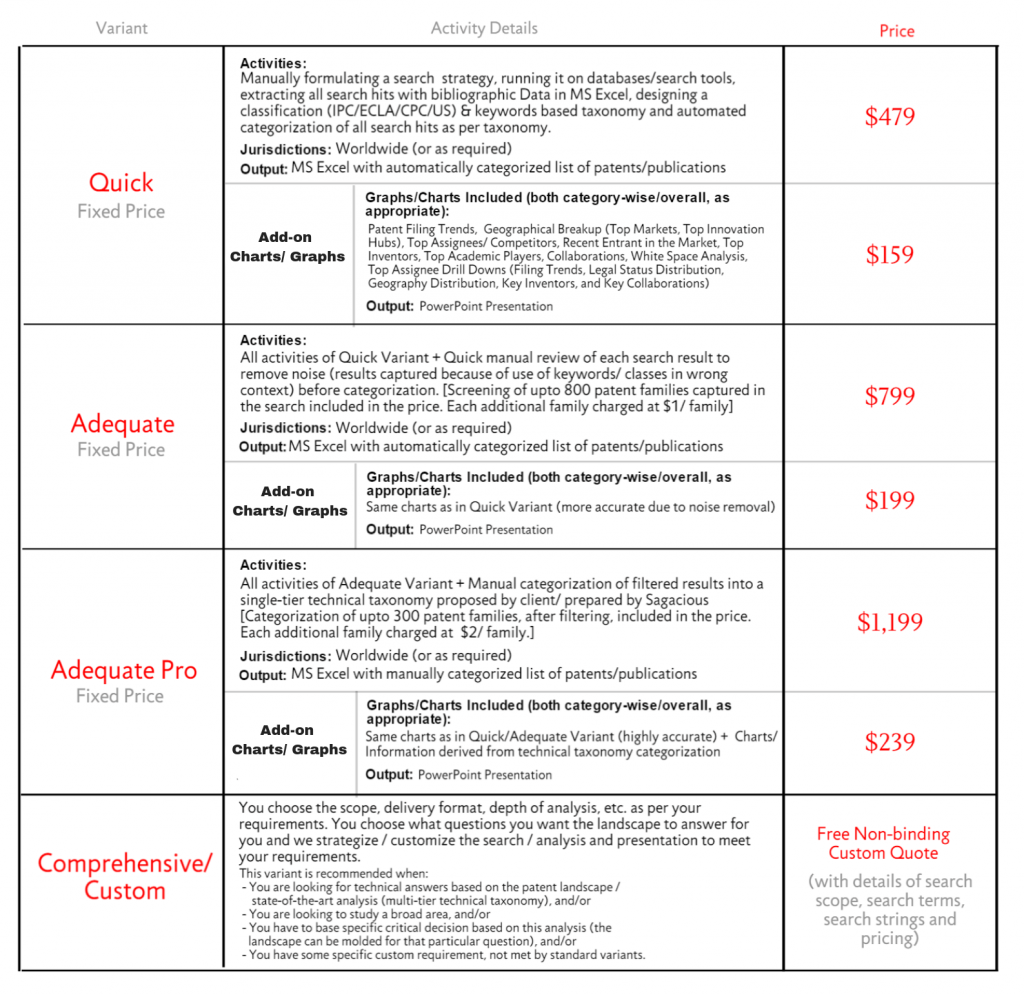 Quickly Contact Us: