Patent Monitoring Report is a complete elaborative report that comprises of results of monitoring your competitor's patent portfolio to compare and analyze the quality of your own products or services. It will provide insights to you about the futuristic IP trends which are critical for your work, and keep a competitive eye on your competitors. In this article, we will understand the various elements of a Patent Monitoring Report.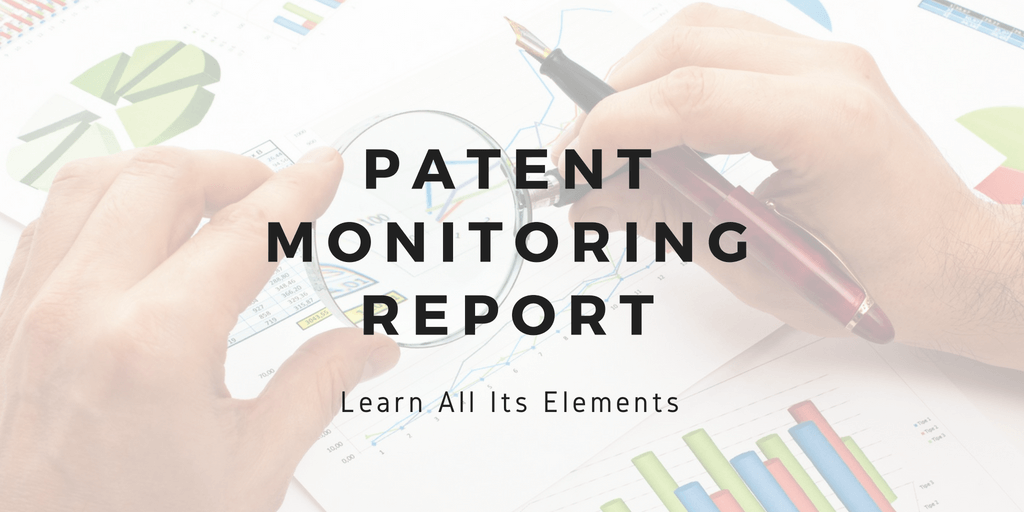 Elements of a Patent Monitoring Report
Let's now learn about the major elements of a Patent Monitoring Report, in the following section.
Details about the Patent Prosecution Events
The most important part of a Patent Monitoring is the Patent Prosecution details. This denotes all the communications between the people involved during the patent prosecution process, such as applicants and their representatives, a patent office, or an application for a patent. All the information can be being taken from the United States patent and trademark office (USPTO). It includes information, such as:
Total number of Rejections (till present date): It includes the number of times, an application has faced rejections till the present date.
Details about the Office Actions: It includes details about the office action that are issued by the patent examiner in response to a patent application after the patent examination. It can be new prior art cited, non-final rejection, final rejection, terminal disclaimer, notice of allowance, etc.
Details about the Applicant Responses/Actions: It includes all the applicant's responses to keep the prosecution process of patent in continuation of flow. It includes all the office action responses (both for amending details or arguing for its correctness) for non-final or final rejections, request for continued examination (RCE), Claim amendments, preliminary amendments, etc.
Details about the Examiner's Behavior
These reports will summarize the examiner's previously handled cases to understand how he handled similar patent applications. This will include information related to RCE turnaround time, allowance rates, appeal process outcomes that will enable you to predict arbitration behavior of an examiner and for what reason most of the applications got rejection by him, in an elaborated manner. This will enable you to get prepared for the worst cases, from the beginning.
Details about the cases of Patent Extension
It includes details about the events when a number of child applications for a particular patent have been filed. The 'Continuity data' field depicts that whether the patent of interest is a continuation application or the parent of a continuation application. This represents the events when different to the particular application has been filed in other countries.
Details about the Market Analysis
This will include a comprehensive analysis of the data for interference, Post-Grant, and Inter partes review, once they occur at the Patent Trial and Appeal Board. This analysis will maintain a track on these trials and appeals, offering you the best chance to understand these moves, and maintain the top position among your competitors.  Not only are these reports helpful for patent pending applications, but also for the patents that have received its grant. A steady eye over the granted patents of your interest will be beneficial to analyze trend of your competitor's filing, patterns of case outcomes, plaintiffs and defendants, etc.
Not only constantly monitoring the competitor's activities will get you into a win-win situation. It is important to understand that a patent has to travel through a lot of phases during the patent prosecution process. We at, The Patent Search Firm, helps you out in watching/monitoring your patents. It is better to analyze monitoring activities of competitor's work at appropriate stages of patent lifecycle for the complete success of your business.
Visit our service page, for more details.